Coolest Projects, the world's leading technology exhibition for young people, are seeking volunteers!

The event gives young people the chance to showcase their great ideas and creations. It inspires and rewards innovation, creativity, entrepreneurship, and technology skills.

Want to have an awesome day helping the next generation of tech innovators? We need you to help us make Coolest Projects International a great day for all participants and visitors.
If you would like to help out, join our team of volunteers! Just complete this volunteer registration form to sign up. Please bear in mind that you need to be at least 18 to volunteer.
You don't need any coding experience, you just need enthusiasm!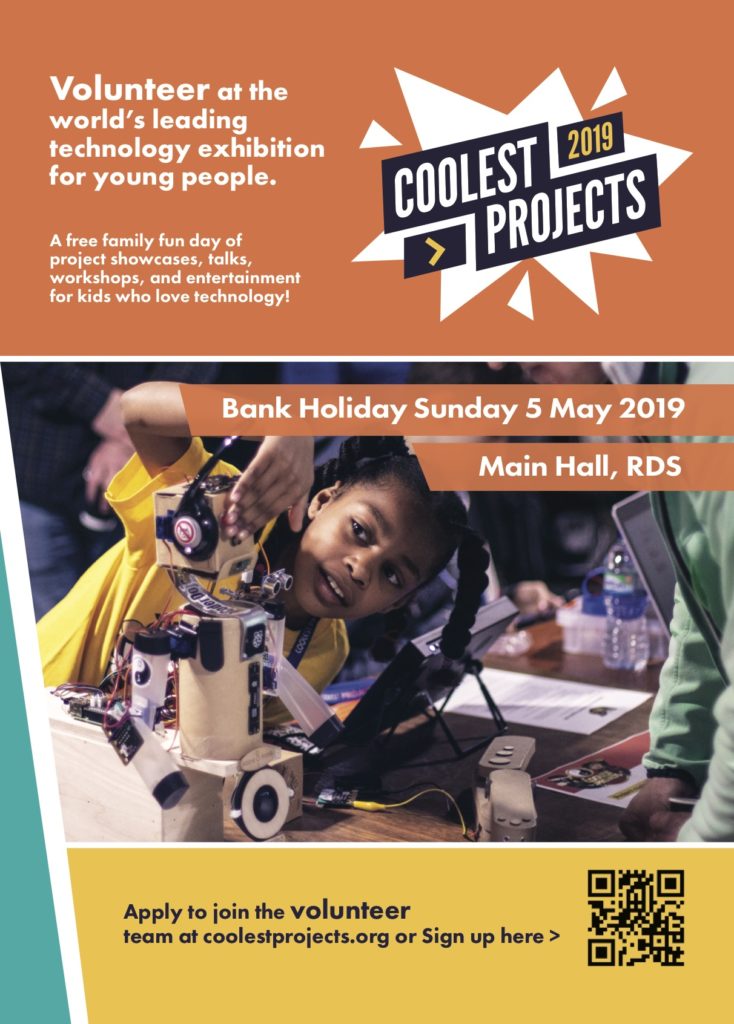 Why Volunteer?
Volunteering is a great way to meet other like-minded people and empower young creators through their involvement.
You can gain experience in a role suitable to your skills and desires (ie. social media, managing speakers, helping with project set up and giving all-important encouragement to our kid coders on the day!)
Your day is flexible too, with lots of opportunities to hear talks, panels, take part in workshops and more. Lunch will also be provided to volunteers on the day!
Can't make it on Sunday but still want to help out? We have volunteer opportunities on Saturday 4th with venue set up at the RDS Main Hall and helping young people register early (in the city centre).
You'll receive your volunteer schedule in advance. We also provide a training session previous to the event to talk you through your role, as well a morning briefing on the day of the event too.
Details
Coolest Projects International takes place on Bank Holiday Sunday, May 5th 2019.
It will be hosted in the Main Hall Complex, RDS, Ballsbridge, Dublin 4, Ireland.

Sign up to Volunteer here .